Kon Tum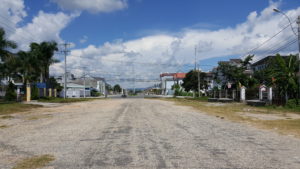 Please click image to enlarge
In the middle of this beautiful town in the highlands lies the old runway for the base that was used from around 1965 and forward. Kon Tum is today a very tourist friendly town with several nice hotels and a wide variety of restaurants. The town itself is well worth discovering with its old wooden church and also places to go for those who are interested in the tribal cultures. Apart from the main base, the well known LZ Mary Lou was located just south of the Dak Bla river on the west wisde of the main road.
It can also serve as base for those interested in discovering war sites such as Ben Het, Dak To, Polei Kleng and the hills south of Ben Het such as Hill 875.
How to get there
Located not far north from Pleiku along the main road Ho Chi Minh Highway Kon Tum can be reached with car or motorbike from all directions, Boun Ma Thout and Pleiku in the south, Da Nang in the north and Quang Ngai in the east. One can also fly there from Ho Chi Minh City and Hanoi.