Leatherneck Square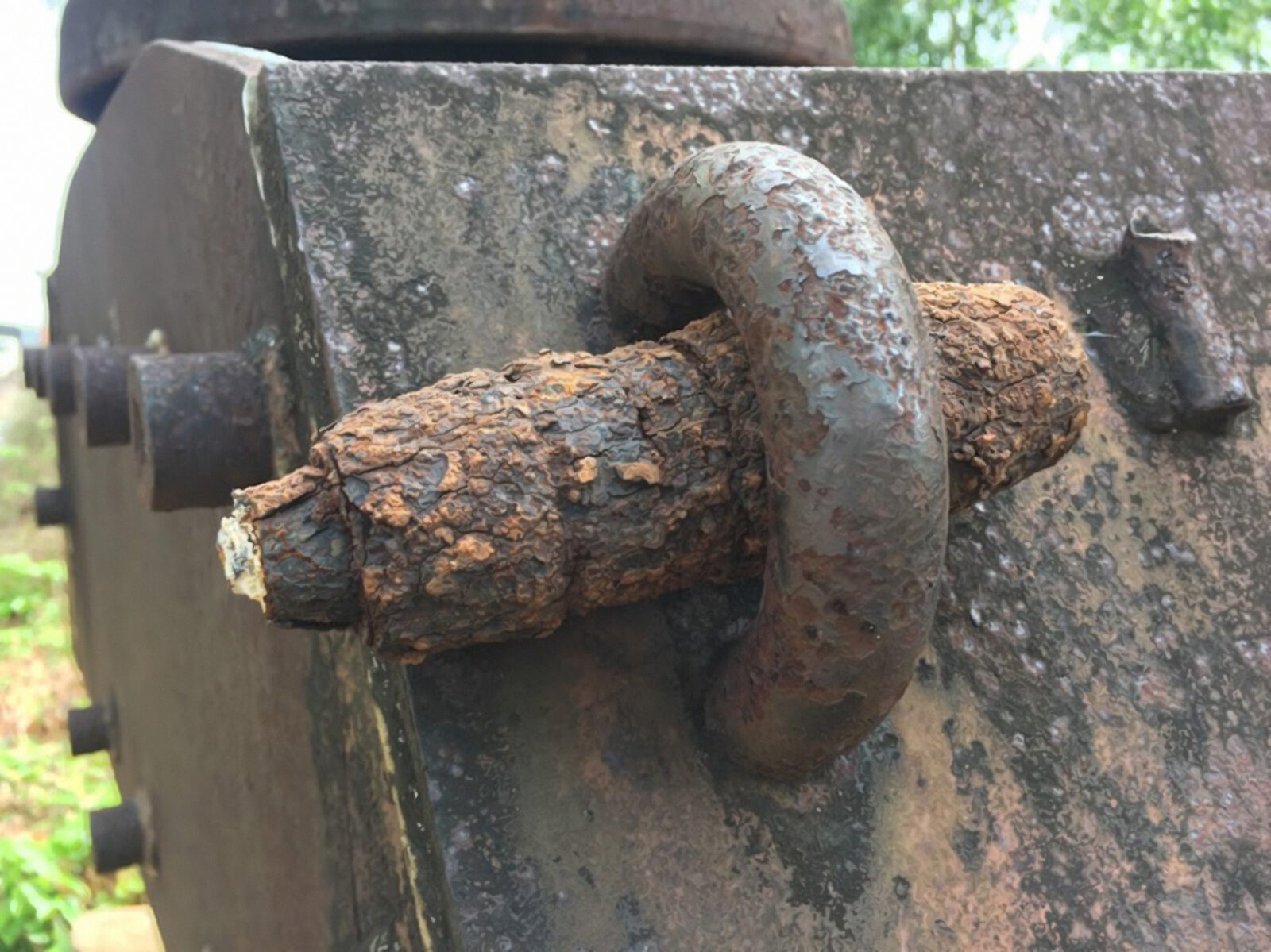 Leatherneck Square was an area just south of the Vietnam Demilitarized Zone and close to the country's coastline. The area was nicknamed "Leatherneck Square" due to the number of United States Marines that served here. It was USMC territory. Con Thien Firebase, Gio Linh Firebase, Cam Lo, and Dong Ha Combat Base comprised the four corners of this square-shaped real estate, which had a length of 6 miles and a height of 9 miles. As Leatherneck square abutted the DMZ and was a mere mile or so from North Vietnamese troops that were operating in the Demilitarized Zone, this was the site of some of the heaviest combat of the war. Between 1967 and 1969, 1,419 Marines and Navy Corpsmen were killed in action here and 9,265 Marines and Corpsmen were wounded here. The Government of Vietnam's tally is 7,563 NVA killed here.
Dong Ha Combat Base
In the southeast corner one encounters a large town that was designated the provincial capital after the previous capital Quang Tri was destroyed in 1972. When the Marines first arrived in 1966, Dong Ha was a village. By 1968, nearly the whole 3rd Marine Division was stationed here, and the Seabees built the Dong Ha Combat Base. After the war, the city grew up around the former base, but the evidence of this large USMC presence is still there. The former Dong Ha Combat Base runway is now a street in a residential neighborhood. Like in many other places that once housed an airstrip, the Vietnamese government preserved and turned over the runway to vehicular traffic. It's still there and is a street lined with cafes and restaurants.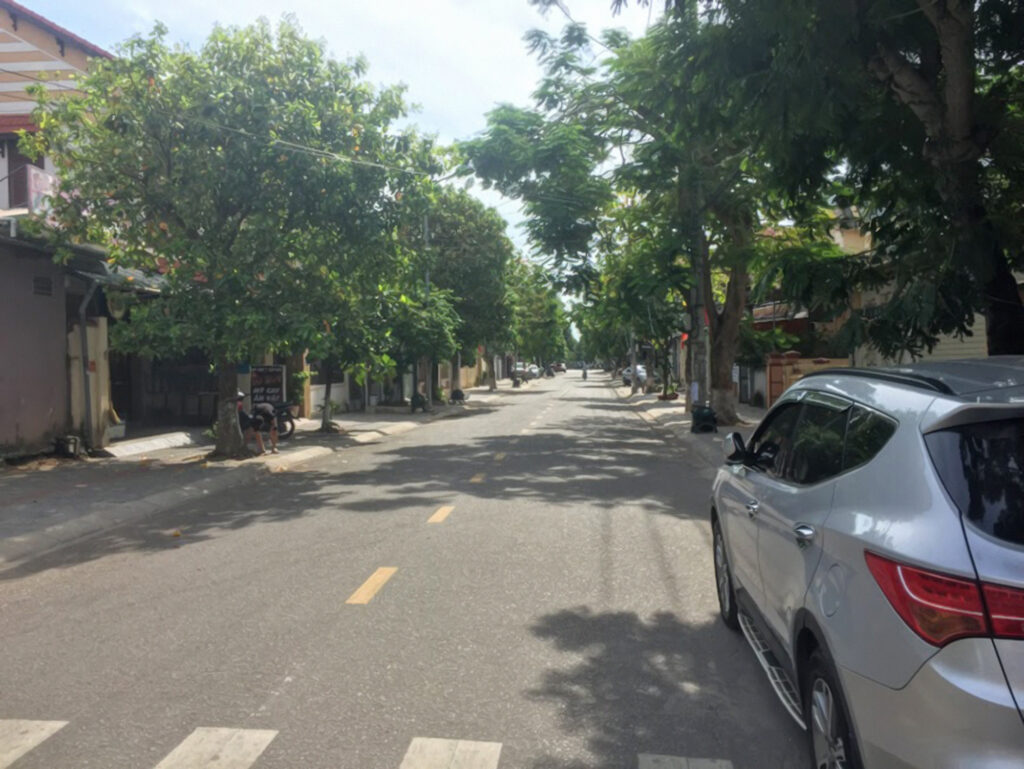 More captivating still is that one of the original aircraft hangars from the base is preserved and still sits in a densely populated labyrinth residential section of Dong Ha. The alleys in this part of the city are barely wide enough to accommodate a car. Finding the hangar takes some skill as a neighborhood has grown up around it. After passing through a narrow alley a small square opens up, surrounded by homes.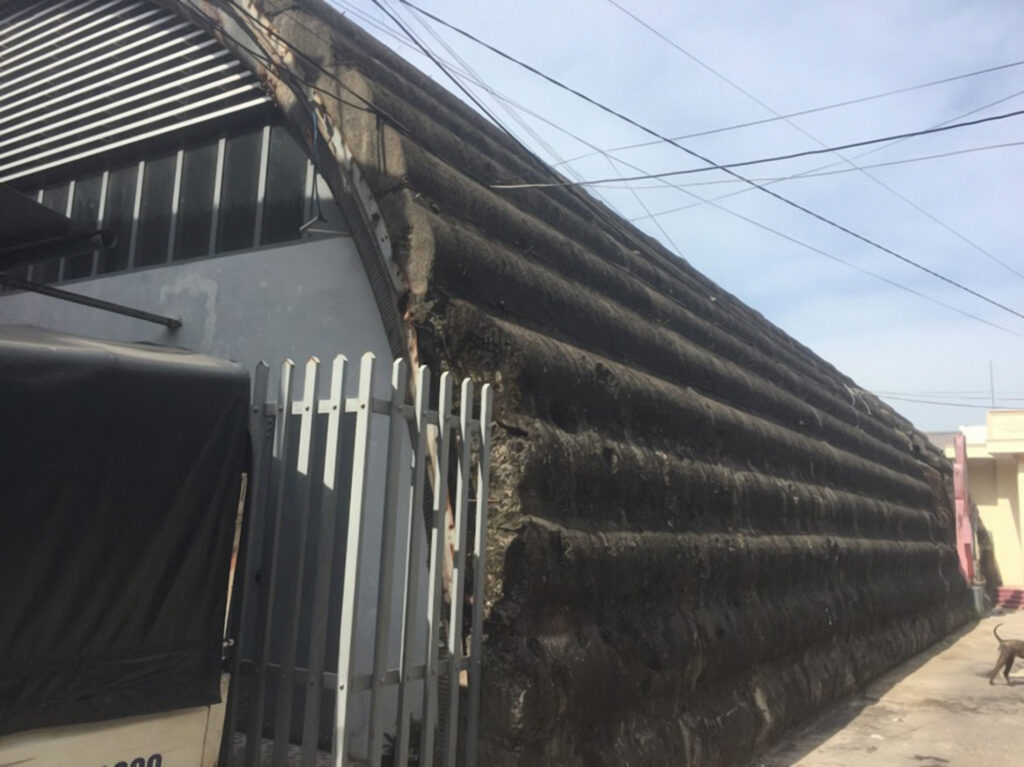 Sitting in the middle is a hangar built by US engineers and Seabees during the war. A concrete aircraft hangar, perfectly preserved. The reason why it was never torn down is because on 28 April 1972, the PAVN overran Dong Ha during the Easter Offensive and raised a victory flag on top of the hangar. The hangar is filled with bullet holes and shrapnel scars.
Gio Linh
The northernmost Corners of Leatherneck Square, Con Thien and Gio Linh firebases, were right on the Demilitarized Zone and two or three kilometers south of the border with North Vietnam. Marines posted to these bases experienced frequent NVA infiltrations and shelling from NVA artillery that was actually located within the supposed demilitarized zone a mere kilometer away.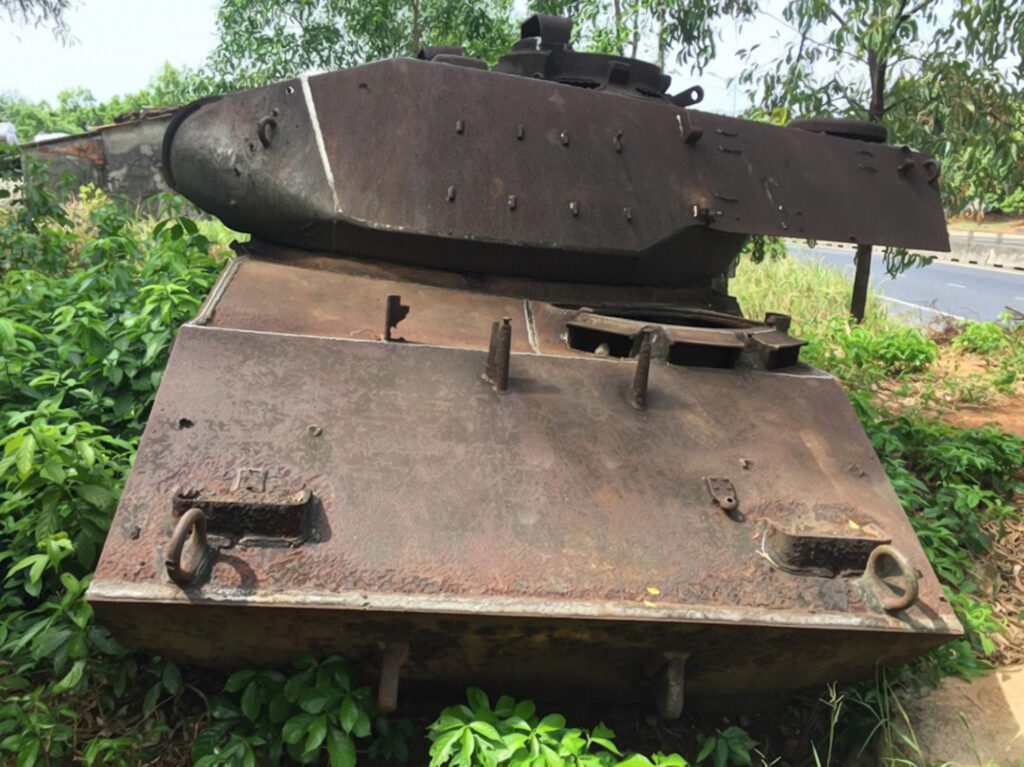 They were dangerous places for Marines to reside and make a living. Gio Linh sits astride Highway 1 behind some tree cover that separates it from the highway's steady traffic. A burned-out ARVN tank originally donated by the United States Army marks the spot. Passing through the tree cover, a massive cassava field is revealed. This could be anywhere in Central Vietnam, until one notices that there are 3 or 4 concrete bunkers still on the site, overgrown with weeds and trees. Cassava farmers place unexploded ordnance uncovered from tilling the fields on top of the bunkers. There was even an unexploded mortar shell sitting on the burned-out tank.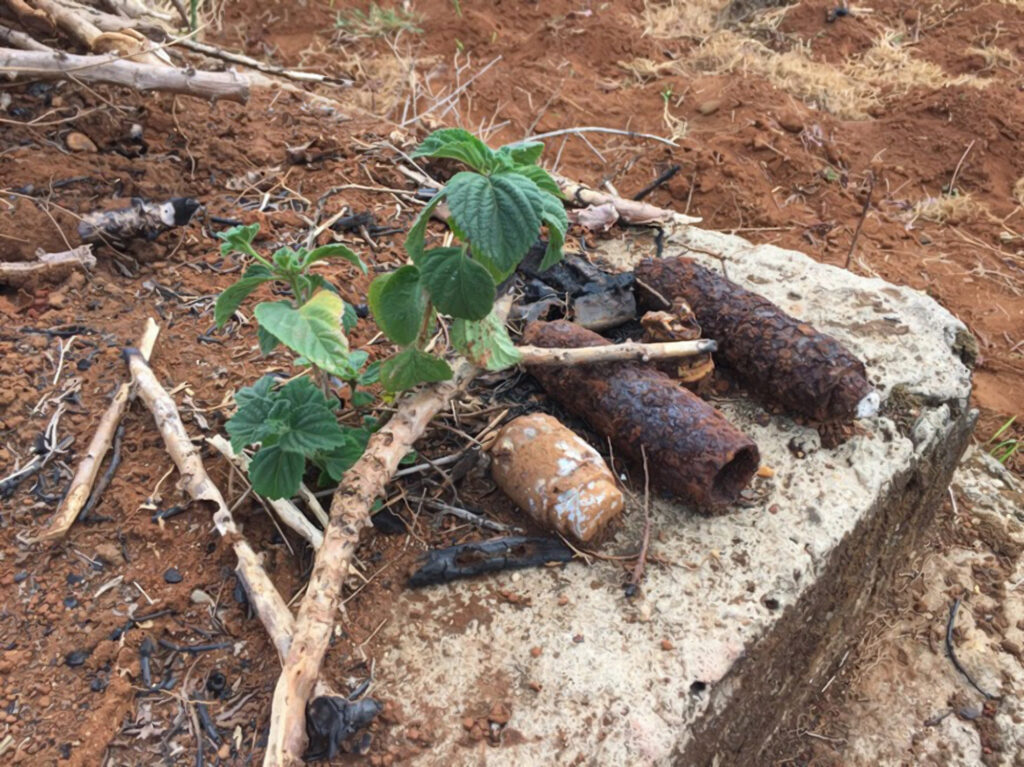 Con Thien
The Hill of Angels is a collection of three low rise hills that have a view onto the Ben Hai River that separated North and South Vietnam. Like Gio Linh due east, it sits right on the Demilitarized Zone, a 54 square mile area was unsurprisingly one of the most hostile during the war. Marines at both Gio Linh and Con Thien were occupied with major engagements throughout each year that the United States was here, particularly from 1967-1969. Con Thien was a strong point along the McNamara Line meant to interdict PAVN crossings of the DMZ. The hills offered the USMC a clear vista of 15 km east to the coast and north into North Vietnam. Yet the firebase was well within range of hidden PAVN artillery within and north of the DMZ.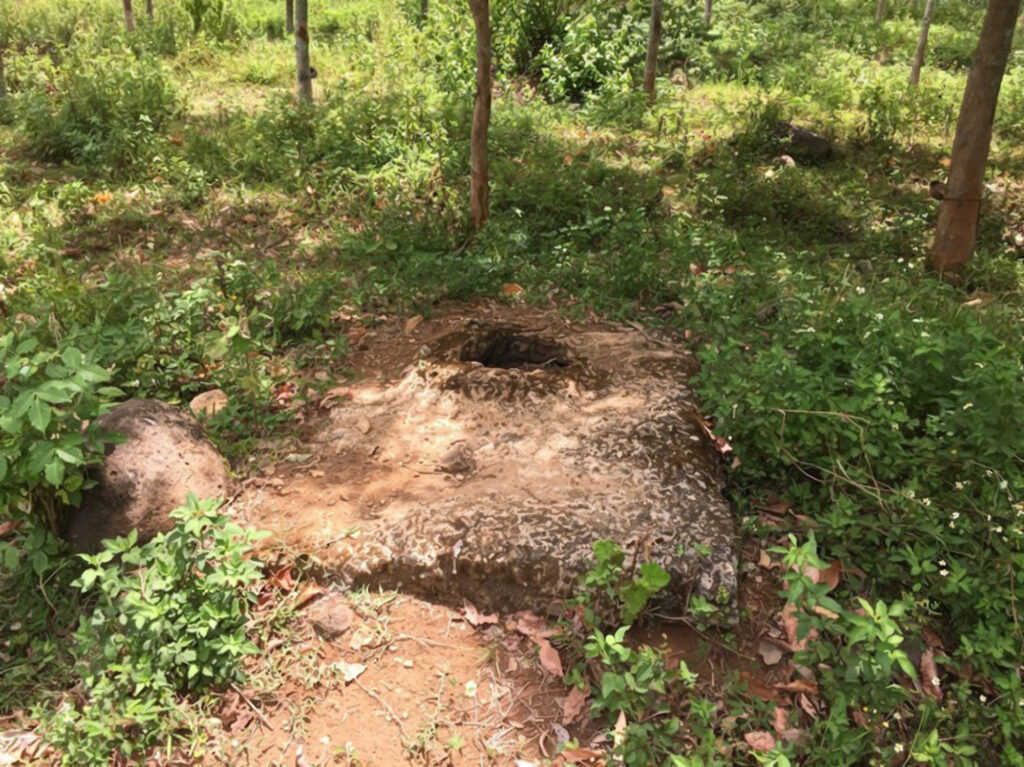 Major combat operations launched from Gio Linh and Con Thien included Operation Prairie III/IV, Hickory, Cimarron, Buffalo, Kingfisher, and Kentucky. When one also tallies the many sieges, firefights, search and destroy missions, probes, and artillery exchanges, the list is endless. In late 1967, the PAVN laid a devastating siege to Con Thien in an effort to distract the United States from the upcoming Tet Offensive, which would be waged in virtually every South Vietnamese city and town simultaneously.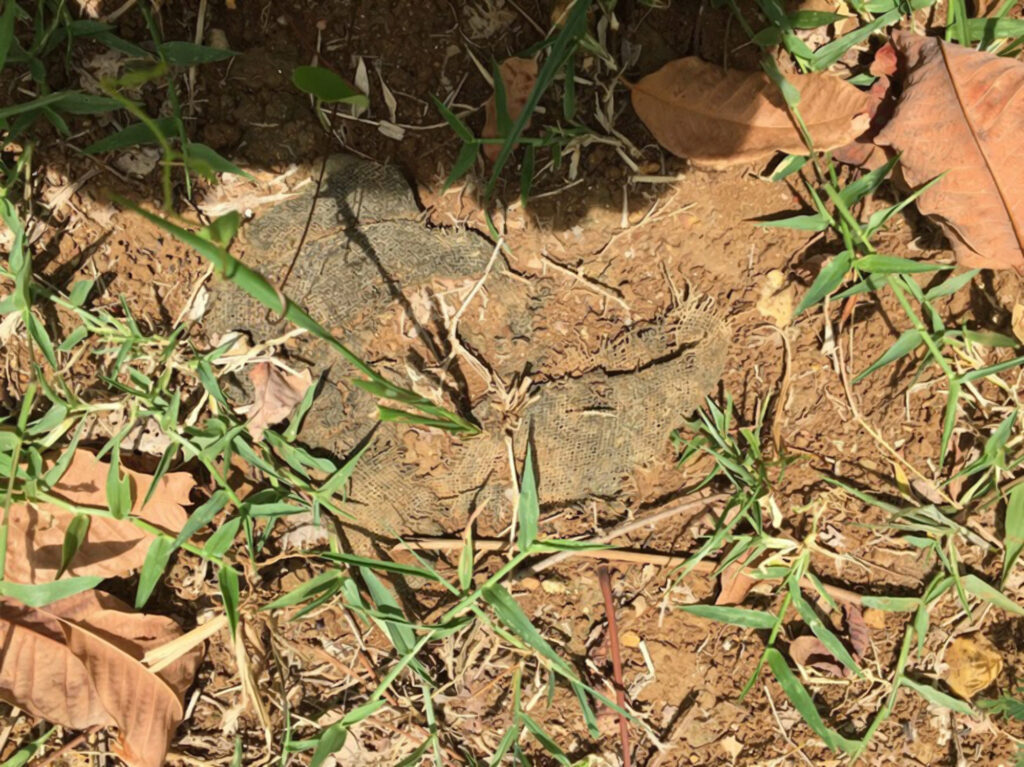 One of Con Thien's three hills is more accessible than the others. It starts with a quiet meadow and leads up and into a hillside rubber plantation. Making your way up the hill, you will begin encountering war garbage that's sat here for 50 years: sandbags, shredded ponchos, shell casings, plastic spoons, medicine bottles, pieces of barbed wire, and plastic forks. On my visit I struck gold: an aluminum crushed Budweiser can. That's the Holy Grail of DMZ garbage.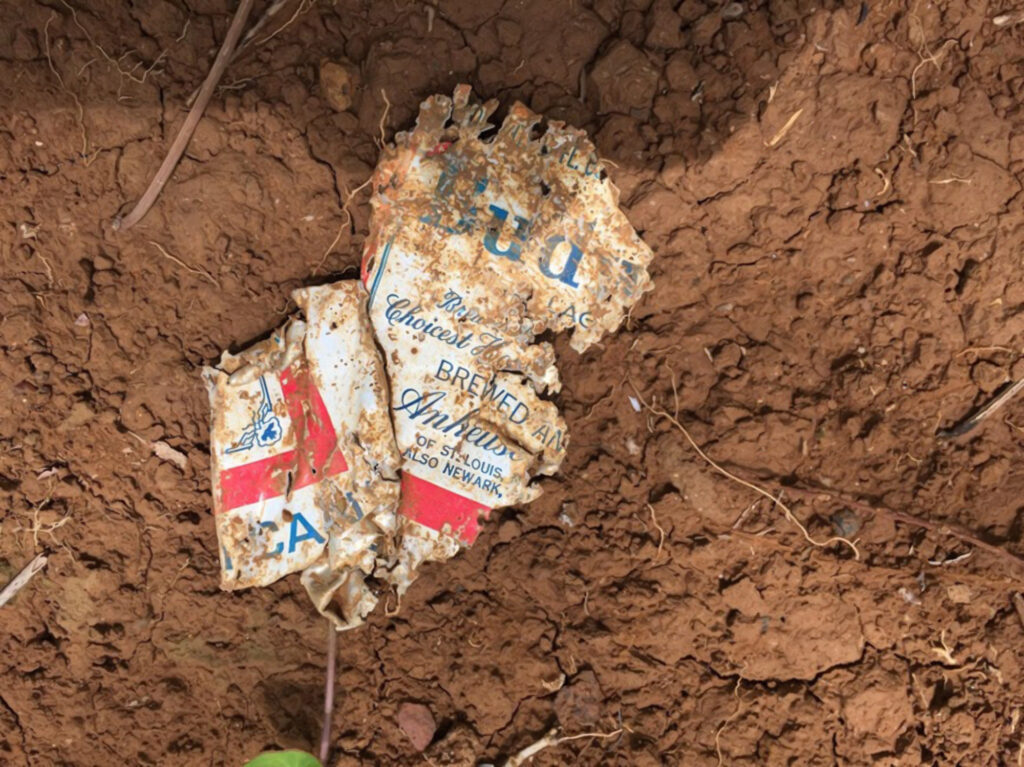 US forces drank a lot of Budweiser beer in Vietnam. Budweiser, Schlitz, Pabst Blue Ribbon and other favorite brands would get helicoptered into these places. The empty cans were tossed. Most of these cans have long since been picked up by scrap collectors. But given the sheer amount of Budweiser that the Americans drank in Vietnam, quite a few of those cans surely remain buried under cassava plants. And they get overturned once in a while.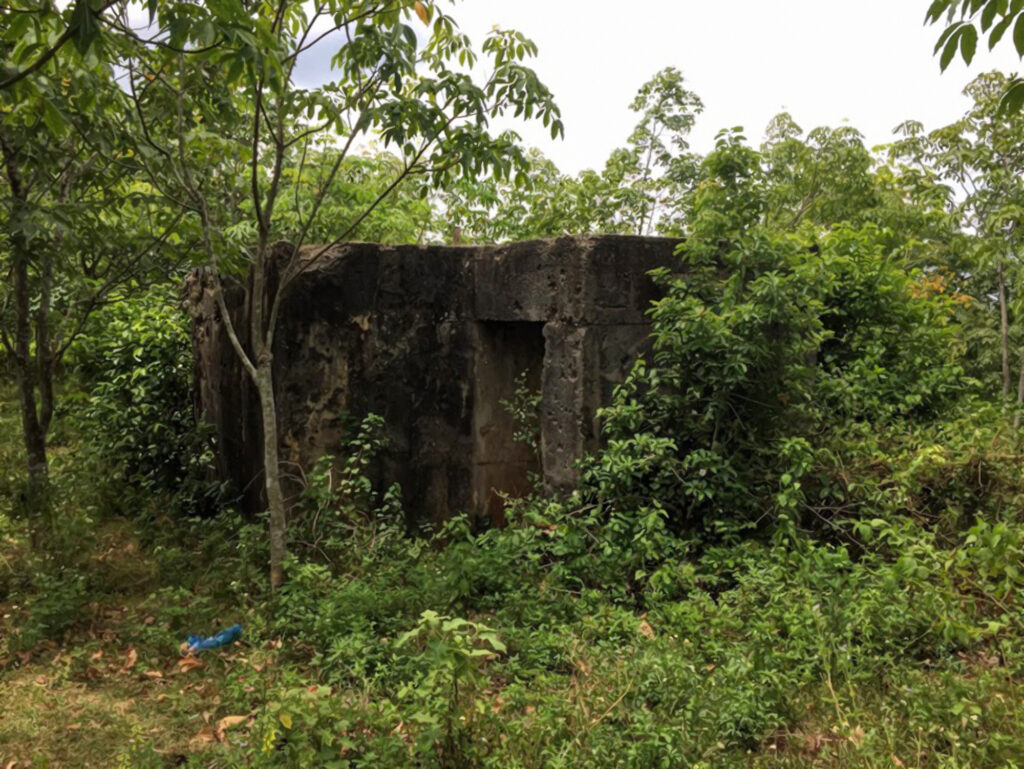 At the summit of this hill are bomb craters, trenches, and other remnants of battles carved into the ground. There is also a large well-preserved concrete bunker on top of the hill. The bunker sits there, lonely, as evidence of the magnitude of history that took place on this small hilltop. Unlike Khe Sanh at the opposite end of Highway 9, Con Thien doesn't get visitors very often. Yet it's among the most notorious sites from the war. There was something a bit eerie about that hilltop. I was with a guide, and we split up. It was a hot and bright day, but the area is shaded by so many rubber trees, it felt quite dark there. In 1967-68, this hill would have been devoid of all trees, cover, and shade. I walked the perimeter of the hill and as the topography of the place, its leftover ditches and scars revealed themselves to me, I did feel a certain residual energy to Con Thien that I haven't felt elsewhere. It's an isolated place, but not unwelcoming. At the far end of the perimeter, I looked back and made out the deserted bunker in the distance. In the bunker and in the trenches around me, I'm sure more than a few terrified Marines waited out NVA artillery strikes.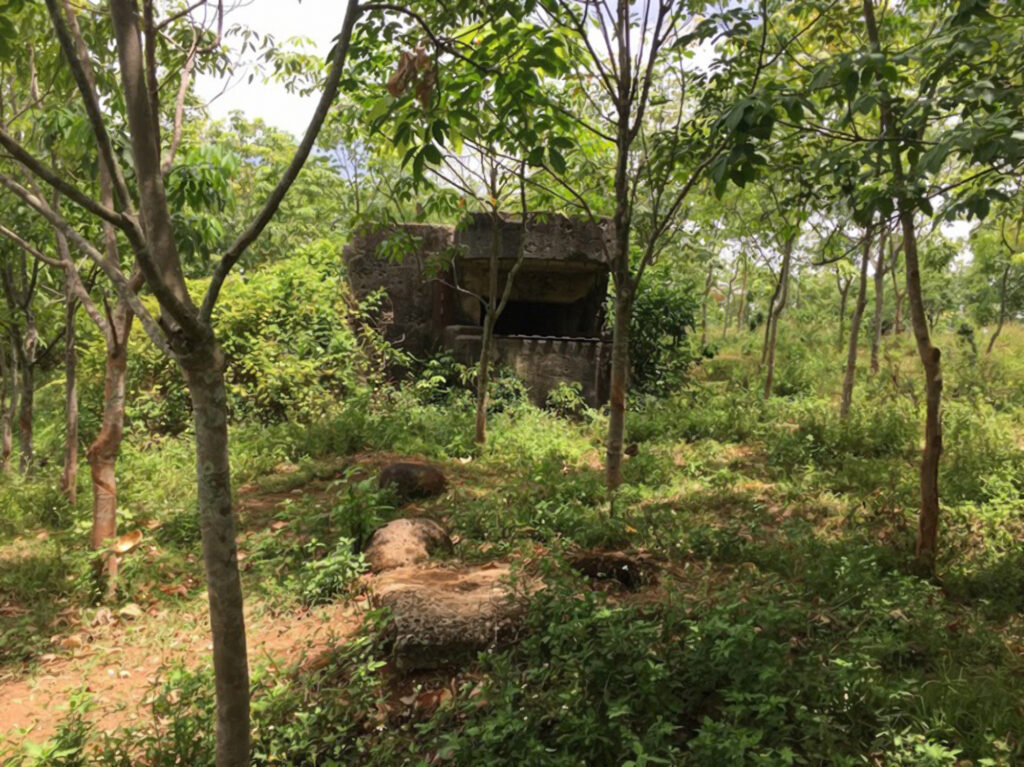 Back at the bunker, one truly gains an appreciation for these structures. They were solid reinforced concrete. Walls maybe 12 inches thick. Nobody knows when or if someone is going to come and remove it, but there is a concrete plaque in the ground in front of the bunker. In Vietnamese was written CẤM PHÁ HOẠI', or 'VANDALISM PROHIBITED.' Presumably an order from the local government, it is reassuring.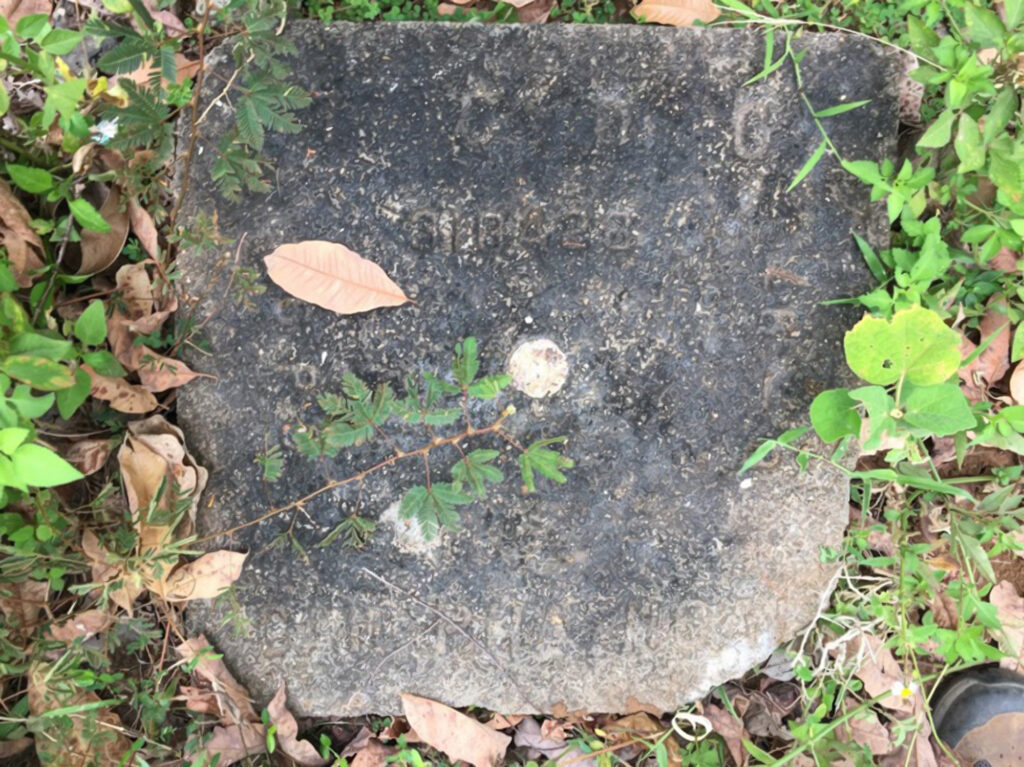 Next up is a section of countryside between Con Thien and Gio Linh that United States Marines called 'The Marketplace.' Because Gio Linh and Con Thien sat amidst major NVA infiltration routes, this area was always highly trafficked. The NVA staged numerous attacks from the Marketplace on Con Thien in 1967. In late 1967 and early 1968, Marines were ordered to clear the Marketplace in Operation Buffalo and Operation Hickory. Marine units entered into an ambush along a 300 meter stretch of dirt road in this location, they took major casualties. Today this spot is quiet. Apart from the odd farmhouse, it is meadow and jungle.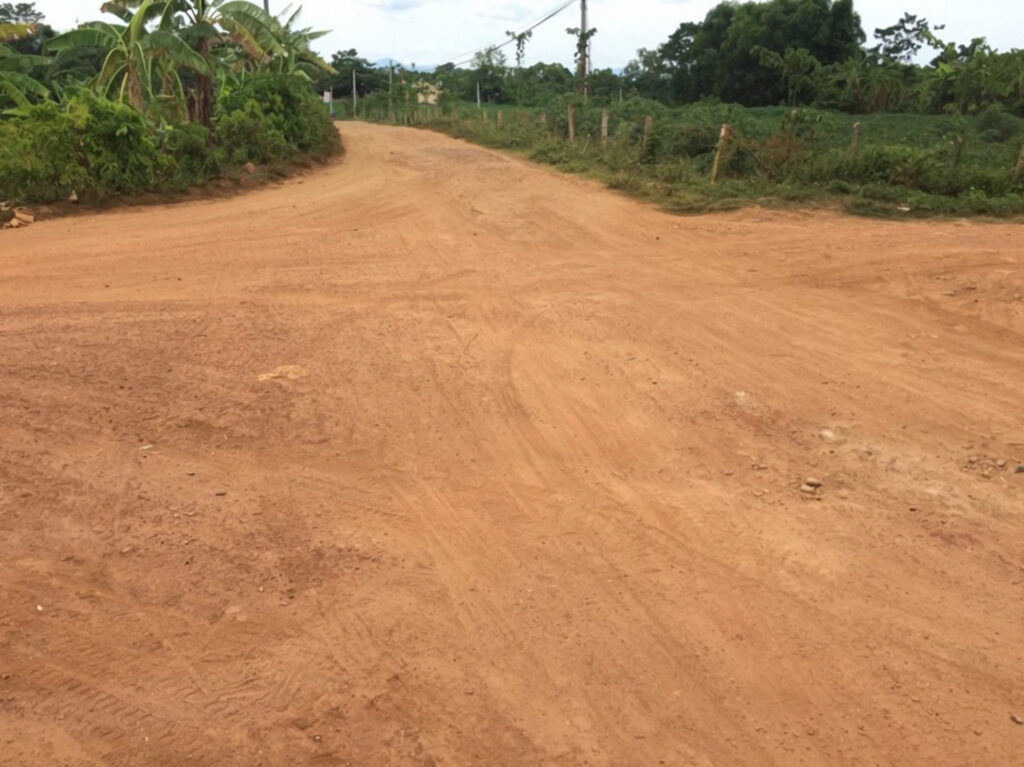 The dirt road still exists, but there's little traffic. Near the road is a small cemetery for liệt sĩ, or martyrs. NVA or Viet Cong killed in action, typically from the local area. The community here built it after the war. After the ambush and withdrawal, more units were ordered into the area to pursue the NVA in force, and with tanks. In a tense interview from the Ken Burns Vietnam War documentary, one Marine recounted the mission. They were patrolling north from Con Thien on narrow dirt roads and encountered a bridge that was too small to accommodate the tanks. They were forced to turn around and retrace their steps, which is anything but best practice in combat. They were ambushed again. "It wasn't a good day," the Marine understatedly concludes.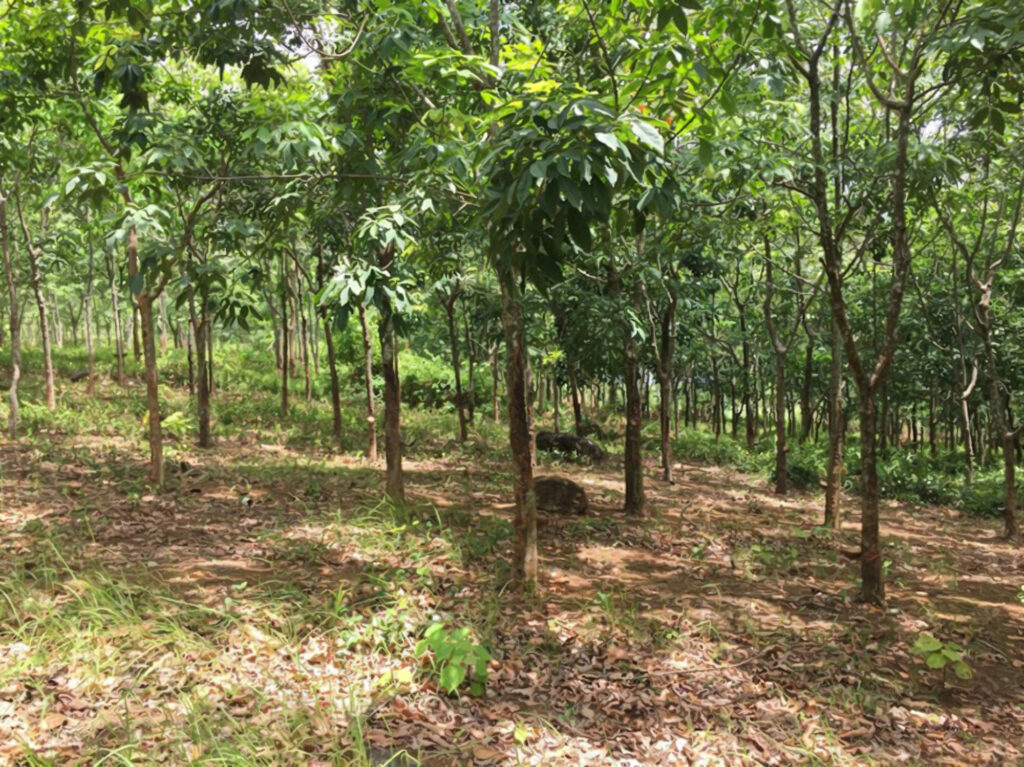 Cam Lo Combat Base
Is the southwest and final corner in Leatherneck Square was the Cam Lo Combat Base situated from 1966 onwards.  The base was several miles west of Dong Ha, and sat on a hilltop. Marine units participating in Operations Hastings and Prairie II, the latter of which was a sweep of the area between Cam Lo and Con Thien, launched from Cam Lo Combat Base. Cam Lo changed hands to ARVN units in January 1972. Cam Lo's status as an ARVN combat base lasted a couple of months, as during the PAVN Easter Offensive in March, it was overrun and never returned to ARVN control. There's nothing left of Cam Lo Combat Base today, and the town of Cam Lo has grown up out of it – schools, small shops, a post office, corner stores. As with many places from the war in modern Vietnam, there's no marker or memory of what happened in Cam Lo.
SB
How to get there
Leatherneck Square is easily accessible to visitors, as it's near the tourist center of Hue, and even nearer to Dong Ha. Both are on major tourist routes. Many of these sites can be visited without a guide, but the value gained from spending a half day in Leatherneck Square with someone who knows the area well is substantial.