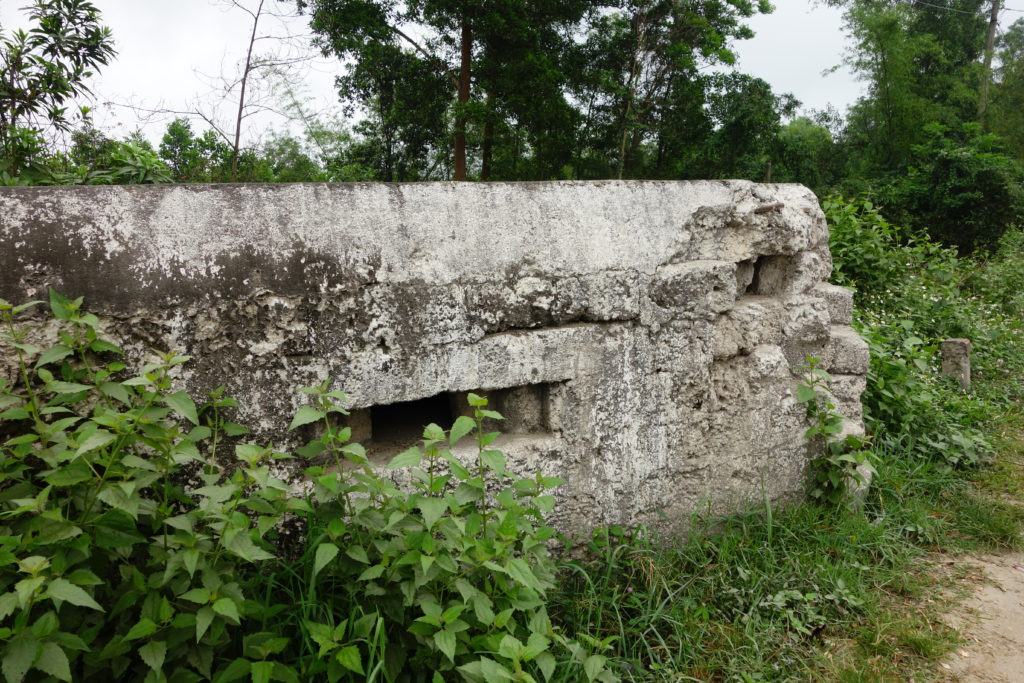 Background

We started this site during the fall of 2017 and we are happy to see that it is already the leading site in its category based on search statistics. We are grateful to you our readers for this honor and we believe it is because we focus only on original content  produced by us and our extended team and that, before we publish anything, we make sure to be accurate in terms of the site specifics as such but also any history content we publish.
Our pictures and videos focus on the area that was the former Republic of Vietnam and they show what you will find at the sites today.  These pictures have been collected from our journeys around the country with the focus being on the conflicts between 1945 and 1975.
All content including pictures and videos are created by the people behind this site, unless otherwise noted. We are continuously adding new content to the site so make sure to come back and discover new places that we have visited. Above the extensive material we already have published, we have an exciting pipeline of material on many more locations to be published on the site so make sure to come back regularly.
Traveling in the footsteps of war is a very special experience. History has shaped the world to what it is today and by understanding the history, we can understand why the world looks like it does today. For some who lived through this part of history, a trip in Vietnam could be a difficult experience, for others it can help heal old wounds and replace bad memories with good.
For those who were not there, we hope that a trip in Vietnam can be of help to understand what really happened, visiting these places is more than just sightseeing. When you see the steep hills and the dense jungle, smell and burn in the frantic sun, the story becomes more alive. For those who have found our site and never visited Vietnam, read up as much as you can with us and on other sites. Feel free to send us an email on [email protected] if you have any questions.
This site is nonpolitical and our aim is to provide information only, not to make judgements or draw conclusions.
Mission statement

Our mission is to showcase pictures, videos and information about what exists at war sites such as bases and battlefields from the wars in Vietnam from 1945 to 1975.
We will only post information about sites we have personally visited so you can be sure that the information is correct. We never use second hand information.
The war encompassed so many places over so long and we know very well we cannot cover everything. But, we will keep adding new pictures of visited sites continuously.
We claim we have become THE go to site for war history travel in Vietnam.  We use only 1
st
person shots and information of what is there today.  We will not "borrow"  pictures, videos or information from anywhere or anyone else.
Our journey

We realize a website like this can never fully cover all the thousands of places where events took place during these conflicts. Every corner of Cholon during the 1968 Tet offensive, every hill where the Viet Minh staged an ambush or every path patrolled on the coastal plains of the south central coast. we will never be able to cover it all, but we will, however, keep traveling and documenting places for this site for you to enjoy.
kWho we are
We are a small team of travel and history enthusiasts of different nationalities who combined; as a team, we'd like to think very few will match our experience when it comes to exploring former war sites in Vietnam.
We go to lengths that others have and will not do in order to find and visit a site of significance. From hacking our way through thick jungle to climbing sides of mountains, very little stops us from finding evidence and taking pictures of bygone battles of the war.
Disclaimer
As mentioned above, we are continuously adding pictures, videos and information about sites. If you have any specific questions, please contact us.
Some of the sites we post about on this site are located in areas where access is temporarily or permanently restricted. We do not encourage people to travel to any of these sites without proper permits from Vietnamese authorities. It is on each person's own responsibility to seek these proper permits before attempting to travel to these sites.
We will share if applicable which sites that we know of need permits and permission, this does not mean however that for places we do not state are restricted are guearanteed to be free to visit. Responsibility to investigate that is on the visitor only. This like many other things in Vietnam can and does vary over time, so always check with local authorities before making an attempt to go to any of the sites.
For those who are interested in independently visiting these sites, we encourage people to have all papers in order such as local or international driving license and appropriate insurance. Motorcycle hire is very easy in Vietnam but can be very dangerous and only advanced and experienced riders should attempt to drive the roads of Vietnam. Some of these spots are very remote and services people are used to in their home countries such as ambulances etc may not exist.
We do not accept any responsibility for any legal issues travelers encounter nor do we accept any responsibility for any damage to vehicles or any bodily harm that occur whilst travelling to these spots.